Proudly Presented By
HDW ENTERPRISES & Foothill Felines Bengals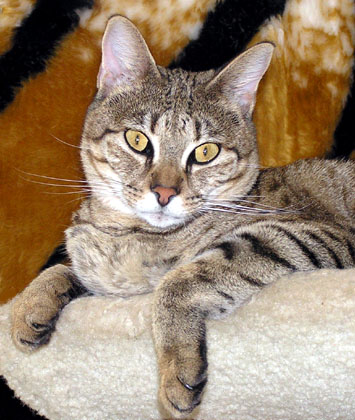 SelectExotics Sandy Spots of Foothill Felines; our first Savannah queen.
Feel free to browse this entire page, or click on area of interest: Your Show Cat in Training ; Grooming For a Show ; Grooming Long-Haired Cats; Grooming Short-Haired Cats ; Ears, Eyes and Claws


YOUR SHOW CAT IN TRAINING

You've finally decided to enter a cat show. You have a pedigreed kitten or cat that you are very proud of, and want to let others see - and maybe your special cat can even win a ribbon or a title some day. Getting your cat ready for the show ring actually starts when they are a kitten. The best show cats start training with their owners as kittens, at home. Putting the kitten in a small cage at home will help prepare it for the time it will spend at a show in close quarters. Playing the radio or television loudly can help prepare the kitten for the loud noises of a show hall. Start out gradually for short periods of time, and gradually increase the amount of time in the cage at home. Remember that in order to be a top show cat, your kitten or cat needs to have a very mellow temperament, in addition to being a beautiful example of his/her breed.

You can help your kitten get used to traveling in the car by starting early in it's life. Try leaving your carrier out in your kitten's room (moving it from room to room occasionally), and then taking it for short trips in the car. You want your kitten or cat to get used to the idea of being in the carrier, and going for trips in the car. If you only put your kitten or cat in the carrier and take it in the car when going to see the veterinarian, it is only natural that your feline will come to associate the carrier and the car with this unpleasant experience. Be sure your kitty is always safely within a clean carrier whenever you take it in the car. When bringing your kitten or cat to a show, never line the carrier with newspaper as the newsprint may stain your cat!!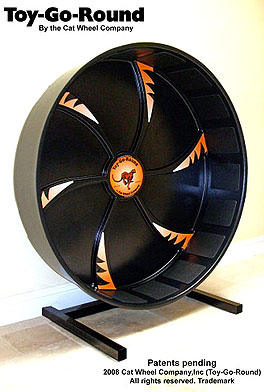 TOY-GO-ROUND CAT EXERCISE WHEELS
~ Having excellent muscle tone and top physical conditioning is an absolute requirement of any cat in order to garner championship points from the show judges. This can be especially difficult to achieve in the limited space most of us have for our special cats. Click on image above to learn about the incredible new exercise wheels for cats; the Toy-Go-Round wheels!! Great for weight control, building muscle tone, and relieving stress and boredom for felines of all ages. With their compact design, they'll fit into just about any area, even pens. They're quite simply the best designed, best built and best priced wheels we've found anywhere!! ~
We recommend encouraging your friends and any visitors to your home to handle your kitten, stretching it out and taking it in and out of the "show cage" you have set up at home. Ask your friends and visitors to wash their hands with soap first, before handling your kitty, and show them also how to open your kitten's mouth and look at their teeth, as the judges will also do at the show. Show them how to gently feel the cat's tail, looking for any faults, knobs or kinks, as the judges will also do this. Be sure to start a reward system for your kitty by giving it a small treat each time you or a friend puts it back in the "show cage" after a "ring".

CLICK ON KITTY to return to top of page!


~ Perhaps the most important part of grooming and preparing your feline for a cat show is to provide the optimum nutrition throughout his entire lifetime. Give your kitty the energy, great health and desire to enjoy life to the fullest, and this vitality and sparkle will be much appreciated by the show judges! Used and recommended by Foothill Felines, click on image above to learn about and order this uniquely powerful nutritional supplement for felines at our Foothill Felines breeder discount (which is up to 50% less than what veterinarians charge). Just a pinch a day, sprinkled onto wet and/or dry food, energizes and supports all ages, weights and breeds of cats. Developed by scientists, veterinarians and formulators to strengthen the immune system and enhance the health and quality of lives of cats, this unique Nu- Vet supplement contains many important minerals, antioxidants, enzymes and vitamins especially needed by active felines' metabolisms INCLUDING taurine, calcium, blue green algae, brewer's yeast, and much more. ~





FELIWAY PLUG-INS & SPRAY


~ Click on links above for more information and to order these exceptionally calming Feliway products for felines. Used and recommended by Foothill Felines! Wonderful for cats of all ages, weights, and breeds. Contains natural cat pheromones for extremely effective stress relief and eliminating need for cats and kittens to mark or exhibit other unwanted behaviors. Every multi-cat household should know about these plug-ins; they are odorless to people, yet they are especially helpful to kittens/cats during training for a cat show, a move, any change in your household routine, periods of stress of any kind, as well as breeding and queening. ~

GROOMING FOR A SHOW

Any cat, whether long-haired or short-haired, should be groomed regularly, but special preparation is often done in the two weeks immediately prior to a show. Of course the best way to have your cat at his/her best is to have it be in the best of health, and always feed it a top quality scientifically formulated diet. Some cats seem to need more nutrients than others, and a good supplement may also be helpful. Do not ever try to bring a cat to a show that is not in the best of health. Not only will your cat not do well, but by exposing your cat to all the other cats at a show when perhaps it's immune system is run down, you increase the chances that it could become quite ill. Always be sure that your cat is up to date on all shots, including rabies shots.


CLICK ON KITTY to return to top of page!


GROOMING FOR LONG-HAIRED CATS

A long-haired kitten such as a Persian or Himalayan should be groomed from an early age so that it becomes used to the routine and will actually learn to enjoy it. Place the kitten firmly but gently on a non-slippery table surface facing away from you. Starting at the head, comb gently with a wide-toothed metal comb (no more than 10 teeth to the inch) 'against the grain'. For the sides of the body, lift the fur and comb downwards a small portion at a time. Brush from tail to head and upwards on the sides with a natural bristle brush, separating each hair. Do not use a nylon brush, as it can build up static electricity in the fur and actually encourage tangling. Pay special attention to the areas behind the ears and elbows, on the flanks and abdomen and under the tail. When you encounter any mats or knots, gently work them out carefully or you may leave bald or patchy areas behind. Once a week, it is recommended that you part the coat and sprinkle lightly with baby powder, then brush out the powder. The powder acts as a dry shampoo and helps to remove any remaining dirt or grease from the fur.

Daily grooming of a long-haired cat is important, and when kept up regularly, should take no more than five minutes. In addition to removing dead hair and tangles, and keeping the skin healthy; daily brushing and combing also helps prevent the cat from ingesting loose hairs (which leads to the formation of hair-balls in the stomach). If your kitty's coat does get extremely matted this will cause the cat discomfort and often the only remedy is to use of scissors. For safety, use scissors with curved blades and ensure that the points are facing away from the cat. Be extremely careful so that you do not cut into your cat's skin, which is very flexible. Do not attempt to groom your long-haired cat unless and until his/her coat is completely dry.

On the day before a show, the long-haired cat should be given a powdering and a final grooming. Be sure that all powder is brushed out completely. Most long-haired show cat owners ask for (and may have to pay for) additional space next to their exhibition cage in the show hall - this extra space is called "grooming space", and allows you to be able to completely comb, brush and powder your cat just before each show ring. Most show cat owners bathe their cats about a week prior to a show - if the bath is given too close to the date of the show, the coat may still be too soft and floppy. A very mild baby shampoo is most often recommended for this, and be sure to rinse it all out thoroughly before drying. After rinsing, rub the cat soothingly in warm, soft towels and, using a hairdryer or fan heater, dry the cat thoroughly, combing the coat all the time. (The whole bath and drying routine needs to be started when the kittens are young also, or your cat may be terrified by the strange noises and the rush of warm air from the fan.) Once this last bath has been finished, be certain to keep your cat safely indoors in a clean area until the day of the show. Another trick is to put on a little "bib" if your kitty has the tendency to drool.

CLICK ON KITTY to return to top of page!


GROOMING SHORT-HAIRED CATS

Bathing, rinsing and drying of a short-haired cat prior to a show is basically the same as that for a long-haired cat, except the whole process is much easier and faster, and there is not need to continuously comb the coat while drying it. Orientals, Burmese and Siamese cats can be given a bran bath two days before a show; this often makes the coat gleam as it removes dirt and excess grease. To give a bran bath, 6 ozs plain bran (found in the health food section of the supermarket) should be warmed thoroughly in a moderate oven. The bran should then be rubbed with your fingers against the natural growth direction of the coat, left on for a few minutes, then gently brushed out with a slicker wire brush. White or light colored short-haired cats may benefit from a little talcum powder, but again, all traces of the powder must be removed before the show.

Some short-haired cats do not need a full bath but have grubby areas such as unwashed noses or feet, chin acne or greasy tails. Pay special attention to these areas before a show to be sure they are spotlessly clean. There are also quite a few products on the market for giving extra sheen to the coat - be sure to experiment with them long before an important show to find out which products work best for your own cat.

CLICK ON KITTY to return to top of page!


EARS, EYES AND CLAWS

Gently clean your cat's ears with sterile cotton or Q-tips, being careful not to probe deeply. You just want to remove any unsightly dust or wax. If you notice a lot of wax build up or debris, it is quite possible that your cat has ear mites. These need to be treated by your veterinarian with medication. Gently cleanse the eyes from inner side to outer side with a clean cotton pad or Baby wipe.

It is mandatory before a show that each cat have all their nails trimmed (all four paws). Be sure you have a high quality nail trimming scissors - it does make a big difference in the accuracy and speed with which you can trim your cat's nails. Press gently on the top of each toe to push the nail forward out of its sheath. Clip just the sharp tip of the nail, and be sure to avoid the "quick" area which contains the nerves and blood vessels (it's easy to see as it is pink, while the tip of the nail is clear). Try to cut all the nails in one session, but if the cat struggles it is better to give it a little treat, and try again later in the day. Eventually you will have all nails trimmed, and if you still just can't do it, your vet or vet tech can do this for you before an important show.

GOOD LUCK AT THE SHOW!!

CLICK ON KITTY to return to top of page!

FOOTHILL FELINES BENGALS & SAVANNAHS
Cameron Park, CA 95682 U.S.A.
(530) 672-CATZ Phone; E-mail: holly@hdw-inc.com
HOME | HOME (FRAMES VERSION) | BENGAL CATS | BENGAL & CAT CHAT | FREE BENGAL CAT SCREENSAVER | AVAILABLE BENGAL KITTENS & CATS | BENGAL KITTEN PHOTO ALBUMS | FUTURE LITTERS | SAVANNAH CATS
FELINE BEHAVIOR | BREEDING & CARE | CAT SHOWS | FELINE HEALTH | PET ODORS & ALLERGIES
UNIQUE CAT ACCESSORIES | THE BENGAL SPOT® | CAT EXERCISE WHEEL | CAT BOOKS | CAT FURNITURE | CAT TOYS & CATNIP | CHRISTMAS IS FOR CATS!® | SCAT MATS | VIDEO CATNIP | CAT WALKING JACKETS
BIG CATS | CAT NAMES | FELINE FUN FACTS | HOW TO ORDER | THE "KITTY TIMES" WEBSITE REVIEW | MARSHA'S WEB PAGE DESIGN® | MONTHLY SPECIALS | THOUGHT FOR THE WEEK
ABOUT US | CELEBRITY CORNER | E-MAIL US | GIVE US FEEDBACK | HOT LINKS | REGISTER FOR FREE GIFT | WEBMISTRESS
© 1996-2009 Copyright by HDW Enterprises, Inc. - All Rights Reserved.
HDW Enterprises, Inc., Cameron Park, CA 95682 (530) 672-CATZ phone
http://www.hdw-inc.com E-mail: holly@hdw-inc.com