FOOTHILL FELINES BENGALS & SAVANNAHS
WE'RE NO LONGER BREEDING BENGALS OR SAVANNAHS ~ HERE'S A LOOK AT OUR LAST LITTERS FROM 2008-2010:
Hampton Yukon of Foothill Felines, our seal mink snow Bengal male

Last Bengal Litter Born: March 19, 2010 - NO AVAILABLE KITTENS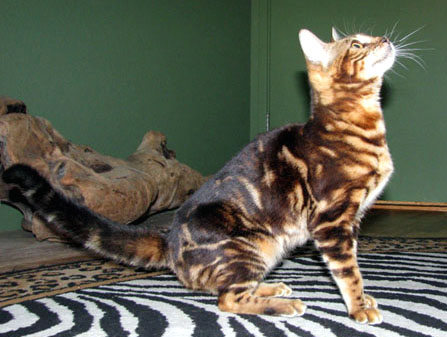 We are pleased to announce the arrival of five stunning kittens from our proven queen Foothill Felines North Star (above left, click on image for her page and pedigree), and an outstanding Champion sire, CH Cazpurr X Factor of JungleKatz, above right - ON MARCH 19, 2010!! North Star is out of a long line of very typey, wild looking Bengals with the sweetest of temperaments; her sire is Gogees Alpha Omega, and her dam is Foothill Felines My Storm Ina Teacup.

We are so excited about X Factor, a handsome, proven 3 year old Bengal Champion stud owned by Bonnie Tanner of JungleKatz Bengals in Lincoln, CA. Thank you, Bonnie, for letting us use this wonderful boy!! Besides being a Champion in TICA, he has been tested negative for HCM (heart disease) at age 2 years old and again at age 3 years of age. He's won many awards including a 4th Best Bengal Kitten at the 2006 On Safari Bengal Congress (as well as 9th Best Bengal Kitten in the Overall Group Congress), and a 3rd and a 9th Best Allbreed Cat in shows during 2007!!

This litter includes 1 brown spotted male; 1 brown spotted female; 2 brown marbled males, and 1 brown marble female!! Star's labor went purr-fectly, and all 5 kittens arrived quickly and began nursing vigorously immediately. We're delighted with our beautiful Bengal family.
NOTE: Foothill Felines was thrilled about our outstanding litter of SEVEN gorgeous Bengal babies born on September 14, 2008; these were Star's first kittens!! She was a phenomenal mother and all seven babies were spectacularly gorgeous and super healthy!! (Handsome Yukon above was the proud Daddy.) While these kittens have all been placed in their new homes, we continue to enjoy pictures and updates from their families. CLICK HERE to see their online baby album and North Star's first litter!! Her newest Bengal litter, born March 19, 2010, is also incredible!!

7 Bengal Kittens Born 9-14-08 to Foothill Felines North Star and Hampton Yukon of Foothill Felines!! 9-14-08 Bengal Baby Album


~ Give your kitty the energy, great health and desire to enjoy life to the fullest! Used and recommended by Foothill Felines, click on image above to learn about and order this uniquely powerful nutritional supplement for felines at our Foothill Felines breeder discount (which is up to 50% off what veterinarians charge). Just a pinch a day, sprinkled onto wet and/or dry food, strengthens the immune system, energizes and supports the overall health of all ages, weights and breeds of cats. Developed by scientists, veterinarians and formulators to enhance the health and lives of cats, this unique Nu- Vet supplement contains many important minerals, antioxidants, enzymes and vitamins especially needed by active felines' metabolisms INCLUDING taurine, calcium, blue green algae, brewer's yeast, and much more. ~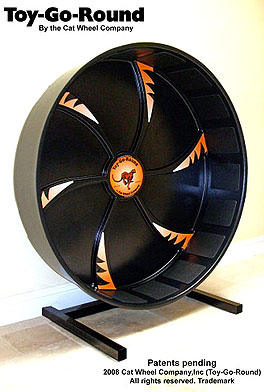 CAT EXERCISE WHEELS
~ Cat exercise wheels, so difficult to find, are extremely important for weight management, building muscle tone, and relieving boredom and stress for your indoor felines. We've found these wheels, with an elegant compact design enabling them to be used even in small spaces. Click on photo for the best designed, best built and best priced wheels we've found anywhere!! ~
FOOTHILL FELINES BENGALS & SAVANNAHS
Cameron Park, CA 95682 U.S.A.
E-mail:
holly@hdw-inc.com

FELIWAY PLUG-INS & SPRAY


~ Click on links above for more information and to order these exceptionally calming Feliway products for felines. Used and recommended by Foothill Felines! Wonderful for cats of all ages, weights, and breeds. Contains natural cat pheromones for extremely effective stress relief and eliminating need for cats and kittens to mark or exhibit other unwanted behaviors. Every multi-cat household should know about these plug-ins; they are odorless to people, yet they are especially helpful to kittens/cats during a move, any change in your household routine, periods of stress of any kind, preparation for a cat show, breeding and queening. ~
HOME | HOME (FRAMES VERSION) | BENGAL CATS | BENGAL & CAT CHAT | FREE BENGAL CAT SCREENSAVER | AVAILABLE BENGAL KITTENS & CATS | BENGAL KITTEN PHOTO ALBUMS | FUTURE LITTERS | SAVANNAH CATS
FELINE BEHAVIOR | BREEDING & CARE | CAT SHOWS | FELINE HEALTH | PET ODORS & ALLERGIES
UNIQUE CAT ACCESSORIES | THE BENGAL SPOT® | CAT EXERCISE WHEEL | CAT BOOKS | CAT FURNITURE | CAT TOYS & CATNIP | CHRISTMAS IS FOR CATS!® | SCAT MATS | VIDEO CATNIP | CAT WALKING JACKETS
BIG CATS | CAT NAMES | FELINE FUN FACTS | HOW TO ORDER | THE "KITTY TIMES" WEBSITE REVIEW | MARSHA'S WEB PAGE DESIGN® | MONTHLY SPECIALS | THOUGHT FOR THE WEEK
ABOUT US | CELEBRITY CORNER | E-MAIL US | GIVE US FEEDBACK | HOT LINKS | REGISTER FOR FREE GIFT | WEBMISTRESS
© 1996-2015 Copyright by HDW Enterprises, Inc. - All Rights Reserved.


HDW Enterprises, Inc., Cameron Park, CA 95682
http://www.hdw-inc.com E-mail: holly@hdw-inc.com