Proudly Presented By
HDW ENTERPRISES & Foothill Felines Bengals
DCH Foothill Felines Manzanita
At HDW Enterprises & Foothill Felines Bengals/Savannahs, We LOVE Sharing the Letters We Receive From Our Wonderful Families and Customers Regarding Their Experiences With Purchasing Our Cat Beds, Cat Toys, Cat Furniture, Cat Accessories and Our Website in General!!
Kim F. writes: "Hi there! Just wanted to let you know that your web page is a great source of information. As a veterinarian who recently gained a Bengal as a client, I found your information very helpful. I will be sending a lot of clients to your web page as I am always getting asked for information on health related issues, and to provide clients with info on exotic breeds....hopefully you will benefit from this too as more people will become aware of the very interesting world of the Bengal! Thanks, your efforts on education are greatly appreciated!"

Bud E. writes: "My wife tagged onto your website quite by accident and then gave your URL to me. You have a wonderful site, with all the information and the graphics, it's terrific to say the least. I've pick up a lot of sites that pertain to the Bengal Cat, however your site is at the top of my list."

Terry L. writes: "Thank you again. It was a pleasure doing shopping without fighting the crowds."

John L. writes: "Both I and my two cats got a real shock when the first yowl of your cat (from your Bengal Cat screensaver) wafted through the room. We all went looking for the source, thought a cat was out on the balcony until I realized the source. I just fell in love with your kittens. What absolutely BEAUTIFUL cats and the one with the blue eyes, OH WOW!! You really got to this 70 year old. Thank you for the tip on the Feline Diabetes site. I will sure go see it. Have a really wonderful Christmas and New Year and Bless you."

Monica S. writes: "Dear Holly, This is Monica, I bought those sheets from you and asked if they could be rushed a little and I just wanted to thank you so much for calling me back and writing that card for me. This is my first time ordering something from the Internet and it was a nice experience. Thanks again."

Jane Y. writes: "We got our cat tree (or condo, as we call it) on Tuesday and both I and my kitty, Beaver Marie, are very, very pleased with it. We have it sitting by the back window where Beaver can now perch on her new condo and watch the squirrels and birds in the back yard. It also gives her a good spot to sit and follow all of the activity while I am in the kitchen. Thanks. We will recommend you to our friends."

Daniel B. writes: "My cats are loving this toy (the Good-Time Gecko©). They're going nuts!! Just thought I would let you know that it's a great toy. Thanks."

Melinda L. writes: "You have a great web site. Loved the music, thanks for making us cat people very happy."

Robert C. writes: "Hi Holly, Just so you know: I had the idea to get the large automatic cat feeder you offer for my girlfriend. I went to AltaVista, searching "cat feeder". Your site came up within 20 hits. I ordered it within 2 minutes of starting the search. We do on-line stores of our own - we like to hear stories like this."

Shanasy writes: "Just wanted to say thanks for all the help your web page has been to me. I have never owned a cat or been around them much. Actually I have never been too crazy about cats. Last Sunday, we discovered a litter of 5 kittens (about 2 weeks old) that had been abandoned by their stray mother. I was frantic and didn't have any idea what to do with them. I knew that if I took them to the local shelter they would probably be euthanzied in 5 days. So I have been frantically educating myself how to properly care for them, and thanks to your web page I found all the info I needed. It has been a godsend to me. Thank you, thank you, thank you!"

Richard M. of Woodstock, GA writes: "Just wanted to say I thoroughly enjoyed your website on Bengal cats. I do not own one, but find them fascinating. Your website is great with lots of good, useful information. I wish all breeds had websites as good as this."

A.C. writes: "I stumbled upon your webpage, "Naming your kitty". I LOVE it! The music and adorable graphic of the running/sleeping frisky kitten is marvelous. I'm going to explore the rest of the site now. Thanks for the laughs!"

Stanley H. from Hong Kong writes: "Dear Holly: Many thanks for your prompt and courteous service. I have ordered a lot of merchandise on the Internet and sometimes the service is not good. Yours will be remembered as one of the best! I will be pleased to give your business a good referral should any of my friends over here wish to order the scat mat to protect their cars. Looking forward to receiving my order soon. Thanks again!"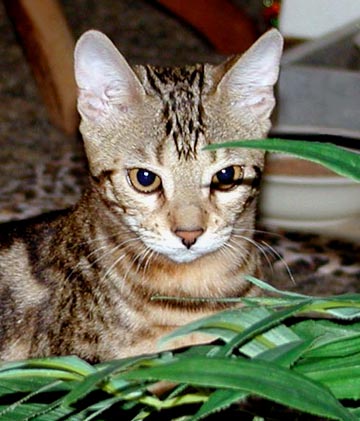 DCH Foothill Felines Manzanita
Kathryn S. writes: "Hi, I wanted to let you know how much I appreciated the way you handled my order for Christmas. I felt a very personal tie in dealing with you. Thanks. I also have to tell how my kitty reacted to her Christmas gift. I gave her the Video Catnip and now she is just like a little kid. She constantly watches television. (She loves the Animal Planet station the most.) When she was a baby she use to watch TV every so often, but she got out of the habit. Now, when I'm fixing my dinner, I put in her tape and she is as happy as can be. She even lets me know when it's over and I rewind it as it plays so she watches it backwards. When I get up in the morning, she meows until I turn the TV on. That was the best gift I could have ever gotten her. (I gave one to my son's kitty, too.)"

Jennifer writes: "I just wanted to let you know that I think your site is great. It has so many different types of animal prints that I have been looking for and just could NOT find. There are so many wonderful accents to go along with the decor. Everything is eye striking. I will let all my friends and family members know about your site. Keep up the great work!"

Deb R. writes: "I want to thank you for your informative website on FUS. My family is going through its first bout with this problem, and it has not been easy. Our veterinarian was very helpful in explaining things to us, but it is comforting to find even more information available to us. Thank you for providing this information! We miss our normally very active cat, and so do his brother and sister! It is amazing how cats seem to sense when their "siblings" aren't feeling well."

Rebecca C. writes: "Just wanted to drop a note and say how much I am enjoying the sheets I purchased, and your website as well. You have some very unique items, for pets and their owners! I am glad I stumbled onto your website and am spreading the word! Thanks!!"

Norma D. writes: "Dear Holly, My cats Velvetta and Angel just love the catnip I bought them. It came today and they were even going into the priority pouch the catnip came in. No envelope or catnip has ever gotten so many happy licks. It was wonderful. Thank-you again."

Christina D. writes: "Hi, Holly! Thank you so very much for the wonderful walking jackets for my 3 "children", Sebastian, Badger and Miss Chloe. Sebastian took to his jacket so easily since I had already been walking him on a harness, but I still have to ease Badger and Chloe into them. Now, I don't have to feel guilty every time I take Sebastian out, I am no longer going to leave the girls behind. I took some photos this morning of Sebastian, will take some of the girls and send you some when they have been developed. I recommended you to 2 of my friends who are considering walking their cats as well, since they are not allowed outside, this is the nicest and easiest way of taking them out twice a day for a stroll."

Kelly H. from Australia writes: "Hi Holly, My name is Kelly Hill. I am the Vice President/Secretary for an Australian organisation called The Unweaned Kitten Fostering Network. We are a non profit group that rescues, hand-raises and then re-homes abandoned/orphaned unweaned kittens. Since September 1999, we have successfully hand-raised over 85 kittens. I have just read your page on hand-raising and I am so glad to finally find a great site on how to do this kind of work properly. This is fantastic! :) Keep up the good work! I will definitely be referring this page to all our foster carers."

Lisa D. from the United Kingdom writes: "Holly - Just a quick mail to let you know that I received the Whirly Bird cat toy I ordered this morning. I assembled it and showed it to my cats and it is the best thing I have ever bought them. They played and played and would not let me put it down. It was just fantastic to see the joy and happiness they got from it. I would recommend this toy for anyone who wants to make their cat(s) very, very happy."

Seth C. writes: "Our new HDW cat post came today. It didn't take the cats long to figure it out that it was theirs. It really is a very nice piece. We're very happy with it, as are the cats. Thanks for all of your help and staying on top of the ordering and shipping. We're getting a scanner in a couple of weeks, so as I'm playing with our new toy, I might send you a pic of the new piece next to the old one - which is a much smaller post, now standing at approximately a 45 degree angle. Thanks again."

Paula B. writes: "Dear Cat Lovers, Your site is WONDERFUL beyond words. I'm putting you on my favorites so when I need to relax I can quickly pull you up and enjoy. THANKS SO MUCH!!!"

Chance D. writes: "Hi Holly. I got the cat tree last night and it looks incredible. My cat took to it right away. She finally has her own furniture and can stop tearing up mine. Thanks a lot. Cheers!!"

Richard M. writes: "I had received information from your page on cat liver disease after finding out our beloved cat had a liver disease. The vet we originally contacted told us there was nothing to be done for him. You advised us to see another vet, which we did. I had written to you about four weeks after that explaining he was improving. Since that time he has had a couple of relapses and the new vet has continued to work with us. Now our cat is vastly improved and I believe he is heavier that before the illness. Also, the is no sign of jaundice. Once again I thank you and encourage you to keep up the great work so others can enjoy their beloved friends as long as possible."

Mary (and Mimi) write: "I rarely, if ever e-mail a site but I had to say this one is cute and informational. Thank you for the allergy info! I learned alot--even after eight years with my first cat (both of us have allergies!) You've given me some ideas that I am taking to heart. Again--thank you!"

Don D. writes: "Received the Walking Jacket yesterday, thank you! I couldn't understand why our Bengal girl Suki was so obsessed with the package. It was sitting on the table unopened and she was yeowling and trying to rip it open. My wife and I were mildly amazed, "Could she know it was for her?" Then we figured maybe the scent of other cats was on it. Finally we opened it and found the surprise toy. What a nose! She's been throwing it around and chasing it for a day and night now and hasn't torn it to pieces yet. Good toy! Happy Holidays."

Brian and Linda E. write: "Larry & The Bear want to say thanks for the Mountain Lion catnip. I came home for dinner, picked up the mail and set it on the table. Didn't pay any attention to what was there as Linda handles the bills. After dinner I went back to work. Linda was gone to the city shopping. I came home that evening to a brown envelope strewn all over the den and two of the goofiest guys I've ever see. Not complaining but do hope The Bear's eyes will straighten out. Must be pretty potent stuff. I'd love to send you a pic of them. They keep sitting up like chipmunks!!"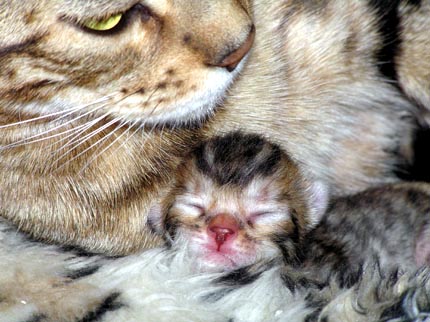 DCH Foothill Felines Manzanita with her newborn baby
Herald G. writes: "Your home page is fabulous--most fabulous."

Sandy G. from Hawaii writes: "How wonderful to deal with such a professional and responsible company. I will send many folks your way!!! Thanks again for your prompt reply."

Kat G. writes: "Was just surfing around when I happened upon your website---two of my favorite creatures in the whole world together --Ian Anderson and cats!!! Great reading - thank you!"

Wendy S. writes: "Dear Holly, Yes, I received my catnip kitty blankies! I knew what it was as soon as I opened the MAILBOX from the wonderful smell, even as well as they were wrapped. I enjoy the odor almost as much as "the kids" do! I think they smelled me coming up the sidewalk, for they were right there helping me open the envelope! They dived in, wriggling and rolling and kicking and biting. Each kitty chose one or tried to take two, and then they switched off a few times to make sure they weren't missing a better thing than they had. Bandit, my big boycat, loves to eat plastic for some weird reason, so he spent some time in the wrappings. The two girls held onto theirs, chewing and kicking them into submission! All in all, the most successful toy you have yet discovered or invented! Many thanks for being the greatest purr-veyors of cat toys I have found!"

Lisa H. writes: "Hello, I wrote to you back in January after finding your web page on Fatty Liver Disease. At that time, my cat had just been diagnosed with Fatty Liver Disease. I just wanted to thank you for your information and encouragement. He has fully recovered, and is doing extremely well. He even seems more affectionate to me now, after all that we have been through together. Anyway, I just wanted to say thanks!"

Stacey L. writes: "Dear Holly: I did receive my cat tree and it is exactly the one I wanted. Thank you for all of your help with this. You should pride yourself on your customer service. Thank you again."

Judy W. writes: "Thank you so much! The Video Catnip arrived today, and I couldn't ask for any better service!! My two eight-month-old Abys thank you, too! They had a great time watching it -- three times -- this afternoon!!"

Melissa M. writes: "I recently ordered and have received the cat walking jacket for my "baby" and felt it important to let you know that I have enjoyed the whole experience of ordering from you. Your thank you note and postcard are a fantastic idea, very personal and I appreciate it!!!! Tiger, my "baby", seemed to develop some sort of relationship with your Bengals on the postcard. Couldn't sniff and rub his chin enough! Your Bengals are absolutely gorgeous, know you are proud!! Also wanted to mention that your cat furniture, the trees especially are something else (works of art, I'd say). You are doing great work and thank you again."

Heather B. (and Puddy) write: "Holly, I just wanted to let you know that I received the cat tree that I had ordered a couple of weeks ago, and I am very pleased. I have tried purchasing other pieces of smaller cat furniture for my cat, Puddy, and he has never shown any interest. He just loves the cat tree that I ordered from your company! I think what makes your furniture stand out is the sturdiness and the weight of the furniture and the natural wood scratching posts. My cat is able to stretch against it without it tipping over like so many of the cheaper cat trees. I just wanted to let you know that I am very satisfied with your product and will recommend you to other people."

Mindy M. writes: "Thanks for putting my "kids" on the web! Your site was how I found out about Bengals in the first place (when I was searching for cat harnesses), then I had to have one! I love reading about all your beautiful M&Ms. They are really special. Thanks again!"

Linda S. writes: "I don't know how to say thank you in words that can express my gratitude for your web site. My cat was just diagnosed two days ago with FIV, and I was too devastated to ask many questions of the vet. I needed information, education and assurance that I'm doing the right thing for my little buddy, and that's exactly what I found at the Bengal Cat/Kitten Health Corner. I will now be a regular visitor for updates on FIV and all cat health issues, and as soon as I'm through with this e-mail, I'm going to tell all my cat owner friends about you. Thank you from the bottom of my heart."

CLICK HERE For Our Planned Future Litters Of ADORABLE BENGALS and SAVANNAHS!!
CLICK HERE to give us your comments, requests, and to place a "no-obligation" request for a Bengal from Foothill Felines. We want to hear from you, and what YOU are looking for in a Bengal!!
FOOTHILL FELINES BENGALS & SAVANNAHS
P.O. Box 418104, Sacramento, CA 95841-8104, U.S.A.
(916) 481-CATS Phone/Fax; E-mail: holly@hdw-inc.com
HOME | HOME (FRAMES VERSION) | BENGAL CATS | BENGAL & CAT CHAT | FREE BENGAL CAT SCREENSAVER | AVAILABLE BENGAL KITTENS & CATS | BENGAL KITTEN PHOTO ALBUMS | FUTURE LITTERS | SAVANNAH CATS
FELINE BEHAVIOR | BREEDING & CARE | CAT SHOWS | FELINE HEALTH | PET ODORS & ALLERGIES
UNIQUE CAT ACCESSORIES | THE BENGAL SPOT® | CAT BEDS | CAT BOOKS | CAT FURNITURE | CAT TOYS & CATNIP | CHRISTMAS IS FOR CATS!® | SCAT MATS | VIDEO CATNIP | CAT WALKING JACKETS
BIG CATS | CAT NAMES | FELINE FUN FACTS | HOW TO ORDER | THE "KITTY TIMES" WEBSITE REVIEW | MARSHA'S WEB PAGE DESIGN® | MONTHLY SPECIALS | THOUGHT FOR THE WEEK
ABOUT US | CELEBRITY CORNER | E-MAIL US | GIVE US FEEDBACK | HOT LINKS | REGISTER FOR FREE GIFT | WEBMISTRESS
© 1996-2008 Copyright by HDW Enterprises, Inc. - All Rights Reserved.
HDW Enterprises, Inc., P.O. Box 418104, Sacramento, CA 95841-8104 (916) 481-CATS ph/fax
http://www.hdw-inc.com e-mail: holly@hdw-inc.com