NEW! Custom Pet Memorials from Tymeless Images Photography

POWERFUL! SPIRITUAL! and EXTREMELY COMFORTING!
HOME of Exotic Bengal Cats and Savannah Cats from Foothill Felines Cattery ~
& HDW's Complete Feline Resource Center
(As Seen In "CATS USA", "KITTENS USA", "Cat Fancy", "Petworld", and "Yahoo" Magazines!)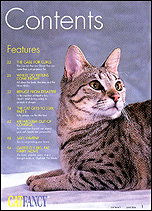 OUR SAVANNAHS ARE CAT FANCY STARS!
Sandy Spots & Sunny Spots in June 2004 Issue of "Cat Fancy" Magazine
Click on Photos Above for Larger Images!
| | |
| --- | --- |
| CLEVERCAT®, Revolutionary Oh-So-Clever TOP OPENING LITTER BOXES | |
ABOUT OUR COMPANY
"WHAT'S MEW" AT HDW and FOOTHILL FELINES
BENGAL CATS…Domestic Cats With the Beauty of the ASIAN LEOPARD CAT
MEET THE QUEENS & STUDS of Foothill Felines
SAVANNAH CATS…Domestic Cats With the Beauty of the AFRICAN SERVAL CAT
Our ON-LINE KITTEN BABY PHOTO ALBUMS
Our Bengal Cats' T.I.C.A. Registered PEDIGREES
HDW's Bengal and ALL Cat Lovers' CHAT BOARD
CELEBRITY CORNER: IAN ANDERSON (Jethro Tull) and his Bengal Cats
FELINE FUN FACTS
HISTORY OF THE DOMESTIC CAT
CAT SHOW CALENDARS for A.C.F.A., C.C.A., C.F.A. & T.I.C.A.
YOUR Kitty Photos on the 'Net -- OUR FRIENDS PAGE
PEOPLE ARE TALKING -- (Read Our Mail)
EVERYTHING IN THE KITCHEN SINK STORE - Ultimate On-Line Shopping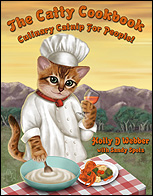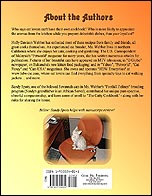 AVAILABLE NOW!! "The Catty Cookbook Series"
HDW's "BIG CATS" Section
KITTY NAME IDEAS
FELINES Just Want TO HAVE FUN!
FREE Bengal Cat SCREENSAVER
FREE E-CARDS For Bengal, Savannah and All Cat Lovers
Bengal Cat HEALTH CORNER (Feline Health Issues)
Pet ODORS & ALLERGIES
BREEDING CATS & KITTEN CARE
FELINE BEHAVIOR & TRAINING
THOUGHT FOR THE WEEK
E-MAIL US
REGISTER for FREE Quarterly Gift Drawing
Monthly CAT TOY & ACCESSORY SPECIALS
AWARDS Our Site Has Won
APPLY FOR OUR "You've Been SPOTTED!" AWARD
HOT LINKS - More Great Websites to Visit

Left, SelectExotics Sandy Spots of Foothill Felines (Savannah); Right, Foothill Felines Manzanita (Bengal)
HDW ENTERPRISES & FOOTHILL FELINES BENGALS & SAVANNAHS
Cameron Park, CA 95682
E-mail: holly@hdw-inc.com
World Wide Web address: http://www.hdw-inc.com

~ Used and recommended by Foothill Felines! Click on image above to order this uniquely powerful nutritional supplement for felines at our Foothill Felines breeder discount. Just a pinch a day added to either dry or wet food provides vibrant results with cats of all ages, weights and breeds. Developed by scientists, veterinarians and formulators to enhance the health and lives of cats, this unique Nu- Vet supplement contains many important minerals, antioxidants, enzymes and vitamins INCLUDING taurine, calcium, blue green algae, brewer's yeast, and much more.

(Be sure to read our latest issue of the "KITTY TIMES" Website Review,
a grand tour of our HDW website from a kitty's purrrr-spective!)
HOME | HOME (FRAMES) | BENGAL CATS MAIN MENU | WHAT'S A BENGAL? | BENGAL & CAT CHAT | BENGAL CAT HEALTH CORNER | FELINE FIRST AID | BENGAL COLORS & PATTERNS | THE "SNOW" BENGAL | THE "MARBLE" BENGAL | THE "BLUE" BENGAL | REGISTERING YOUR BENGAL | SHOWING BENGALS | OUR QUEENS/STUDS | | FOOTHILL FELINES BENGALS | FOOTHILL FELINES SAVANNAHS | AVAILABLE KITTENS | FUTURE LITTERS | SAVANNAH CATS
FRIENDS PAGE (YOUR KITTY PHOTOS) | SELECTING/PREPARING FOR YOUR NEW KITTEN | PURCHASING A PEDIGREED KITTEN | KITTEN PROOFING YOUR HOME & CAT SAFETY TIPS | ABOUT SPAY/NEUTER | DECLAWING, FACTS & ALTERNATIVES | NUTRITION FOR CATS | FELINE GENETICS | FELINE GENETICS, PART 2 | CAT SHOWS | GROOMING YOUR CAT FOR A SHOW | HISTORY OF THE CAT | ALC PHOTOS | THE AFRICAN SERVAL CAT | HISTORY/CULTURE OF WILD CATS | "BIG CATS" MAIN MENU
CAT ACCESSORIES MAIN MENU | CAT WALKING JACKETS | SCAT MATS (TRAINING AIDS) | HISTORY OF CATNIP | HDW's FELINE BOOK STORE | CAT TOYS & CATNIP | CAT FURNITURE | POSTERS & WALL ART | CLEVERCAT TOP OPENING LITTER BOX | FELINE FUN FACTS | HDW's CHRISTMAS IS FOR CATS!® | KITCHEN SINK STORE
MONTHLY SPECIALS | THE "KITTY TIMES" WEBSITE REVIEW | TIGER TOUCH |CELEBRITY CORNER |PET ODORS & ALLERGIES | HOW TO ORDER | THOUGHT FOR THE WEEK |THE CATTY COOKBOOK
NAMING YOUR KITTY | FELINE BEHAVIOR | WHY DOES MY CAT DO THIS? | BREEDING & KITTEN CARE | HDW's FELINE RESOURCE CENTER | MARSHA'S WEB PAGE DESIGN® | AWARDS OUR SITE HAS WON | APPLY FOR OUR AWARD
ABOUT US | GIVE US FEEDBACK | E-MAIL US | WHAT'S MEW | | HOT LINKS | PEOPLE ARE TALKING | WEBMISTRESS

© 1996-2015 Copyright by HDW Enterprises, Inc. - All Rights Reserved.


HDW Enterprises, Inc., Cameron Park, CA 95682
http://www.hdw-inc.com e-mail: holly@hdw-inc.com