What's Mew!

HDW ENTERPRISES &
Foothill Felines Bengals/Savannahs
TYMELESS IMAGES PHOTOGRAPHIC ART & TYMELESS TRAVEL
(Updated 7-15-2015)
Sunny Spots and Sandy Spots ~ Our First Savannahs
Our "EUKANUBA" SUPERSTAR!!
CH Foothill Felines Picasso of Fire'N'Ice (MaiTai x Malamute)
Click on Photo Above for Larger Image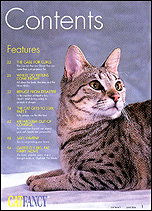 "CAT FANCY" MAGAZINE STARS!!

Sandy & Sunny Spots in the June 2004 Issue, Pg 1 &amp 2
Click on Photos Above for Larger Images
NEW! Custom Pet Memorials from Tymeless Images Photography

POWERFUL! SPIRITUAL! and EXTREMELY COMFORTING!
BOOKMARK THIS PAGE!
Questions or Problems with our website?? E-MAIL US!

~ Give your kitty the energy, great health and desire to enjoy life to the fullest! Used and recommended by Foothill Felines, click on image above to learn about and order this uniquely powerful nutritional supplement for felines at our Foothill Felines breeder discount (which is up to 50% less than what veterinarians charge). Just a pinch a day, sprinkled onto wet and/or dry food, energizes and supports all ages, weights and breeds of cats. Developed by scientists, veterinarians and formulators to strengthen the immune system and enhance the health and quality of lives of cats, this unique Nu- Vet supplement contains many important minerals, antioxidants, enzymes and vitamins especially needed by active felines' metabolisms INCLUDING taurine, calcium, blue green algae, brewer's yeast, and much more.





FELIWAY PLUG-INS & SPRAY


~ Click on links above for more information and to order these exceptionally calming Feliway products for felines. Used and recommended by Foothill Felines! Wonderful for cats of all ages, weights, and breeds. Contains natural cat pheromones for extremely effective stress relief and eliminating need for cats and kittens to mark or exhibit other unwanted behaviors. Every multi-cat household should know about these plug-ins; they are odorless to people, yet they are especially helpful to kittens/cats during a move, any change in your household routine, periods of stress of any kind, and queening.
FOOTHILL FELINES BENGALS & SAVANNAHS
Cameron Park, CA 95682 U.S.A.
E-mail: holly@hdw-inc.com
HOME | HOME (FRAMES VERSION) | BENGAL CATS | BENGAL & CAT CHAT | FREE BENGAL CAT SCREENSAVER | AVAILABLE BENGAL KITTENS & CATS | BENGAL KITTEN PHOTO ALBUMS | FUTURE LITTERS
FELINE BEHAVIOR | BREEDING & CARE | CAT SHOWS | FELINE HEALTH | PET ODORS & ALLERGIES
UNIQUE CAT ACCESSORIES | CAT BOOKS | CAT EXERCISE WHEEL | CAT FURNITURE | CAT TOYS & CATNIP | CHRISTMAS IS FOR CATS!® | SCAT MATS & TRAINING | VIDEO CATNIP | CAT WALKING JACKETS
BIG CATS | CAT NAMES | FELINE FUN FACTS | HOW TO ORDER | THE "KITTY TIMES" WEBSITE REVIEW | MARSHA'S WEB PAGE DESIGN® | MONTHLY SPECIALS | THOUGHT FOR THE WEEK
ABOUT US | CELEBRITY CORNER | E-MAIL US | GIVE US FEEDBACK | HOT LINKS
© 1996-2015 Copyright by HDW Enterprises, Inc. - All Rights Reserved.


HDW Enterprises, Inc., Cameron Park, CA 95682
http://www.hdw-inc.com E-mail: holly@hdw-inc.com