HDW ENTERPRISES
Foothill Felines Bengals/Savannahs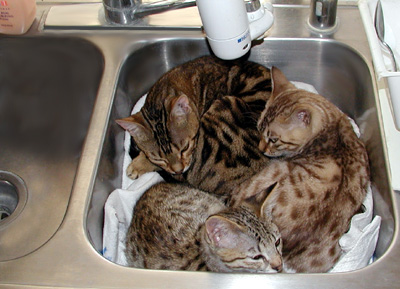 2 Bengals and a Savannah in the kitchen sink on Thanksgiving Day,
smelling the cooking aromas and the inspiration for this on-line store!
We have carefully compiled this list of some of the finest stores anywhere for the shopping convenience and pleasure of our website visitors. In this "Everything In The Kitchen Sink" Store, all you have to do is to click on any store you find of interest to begin your ultimate on-line shopping experience. Each of these well-known, highly recognized merchants offers state of the art secure purchasing, a large and quality line of products and services, and guarantees your complete customer CAT-isfaction. We hope you will enjoy the ease and convenience of our on-line Kitchen Sink store -- and then have more time to spend with your family and felines at home!!

AIR PURIFIERS ~ SIMPLY THE BEST


CAT BEDS, STAIRS/RAMPS, SOFAS & SMALL FURNITURE


CAT EXERCISE WHEELS AND PET STROLLERS

Click on image below to learn about these exciting new products for cats - cat exercise wheels!! Great for relieving boredom, controlling weight, building muscle tone and keeping your indoor pet, breeder or show cat in top physical shape. BUILDING YOUR CAT'S HEALTH NOW WILL SAVE YOU $$$ IN LONG-TERM VET BILLS. These are quite simply the best designed, best built and best priced wheels we've found anywhere!!





ANYTHING & EVERYTHING!


NUVET PLUS FELINE SUPPLEMENT

Used and recommended by Foothill Felines!! This unique nutritional supplement helps build the immune systems of all ages, sizes and breeds of cats. It was developed by scientists, veterinarians and formulators to enhance the overall health and quality of life for felines and contains many important minerals, antioxidants, enzymes, vitamins and minerals INCLUDING taurine, calcium, blue green algae, brewer's yeast, and much more. Click on the photo below for more information about this product; using this link you'll be eligible to place an order using our Foothill Felines breeder code for maximum discount (which is up to 50% off what veterinarians typicall charge)!!


AMAZING LITTERBOXES

Used and recommended by Foothill Felines!! From the Clevercat top opening litterbox and liners, to the best in self-cleaning litterboxes (you'll never have to scoop or touch dirty litter again!) to decorative litterboxes, to a complete system guaranteed to teach your kitty to use your TOILET!! Meowser!!







CLICK HERE to return to the top of the page!
RESCUE REMEDY FOR PETS


~ Click on link above for more information and to order this homeopathic product. Bach Rescue Remedy (alcohol free) for Pets is for dogs, cats, horses, and birds - it's been recommended by veterinarians for animals worldwide as an organic, natural remedy to help calm pets in all kind of stressful situations. Just add several drops daily to your pet's drinking water; great for breeding, queening, cat shows, moving, during any stressful time for your pet. Used and recommended by Foothill Felines.
FOOTHILL FELINES BENGALS & SAVANNAHS
Cameron Park, CA 95682 U.S.A.
E-mail: holly@hdw-inc.com

FELIWAY PLUG-INS & SPRAY


~ Click on links above to learn about and order these exceptionally calming products for felines. Used and recommended by Foothill Felines!! Wonderful for cats of all ages, weights, and breeds. Contains natural cat pheromones for stress relief during difficult times such as any changes in the household routine, and very effective at eliminating the need for cats and kittens to mark or spray with urine, or exhibit other unwanted behaviors.
HOME | HOME (FRAMES VERSION) | BENGAL CATS | BENGAL & CAT CHAT | AVAILABLE BENGAL KITTENS & CATS | BENGAL KITTEN PHOTO ALBUMS | FUTURE LITTERS | SAVANNAH CATS
FELINE BEHAVIOR | BREEDING & CARE | CAT SHOWS | FELINE HEALTH | PET ODORS & ALLERGIES
UNIQUE CAT ACCESSORIES | THE BENGAL SPOT® | CAT EXERCISE WHEEL | CAT BEDS, PERCHES & STAIRS | CLEVERCAT LITTERBOXES | CAT BOOKS | CAT FURNITURE | CAT TOYS & CATNIP | CHRISTMAS IS FOR CATS!® | SCAT MATS | CAT WALKING JACKETS
BIG CATS | CAT NAMES | FELINE FUN FACTS | HOW TO ORDER | THE "KITTY TIMES" WEBSITE REVIEW | MARSHA'S WEB PAGE DESIGN® | MONTHLY SPECIALS | THOUGHT FOR THE WEEK
ABOUT US | CELEBRITY CORNER | E-MAIL US | HOT LINKS | WEBMISTRESS

© 1996-2015 Copyright by HDW Enterprises - All Rights Reserved.


HDW Enterprises, Inc., Cameron Park, CA 95682 U.S.A.
http://www.hdw-inc.com e-mail: holly@hdw-inc.com