Proudly Presented By
HDW ENTERPRISES & Foothill Felines Bengals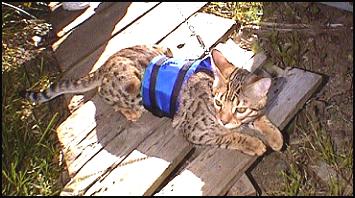 Handsome young Bengal male, Foothill Felines Junior, modeling the
Royal Blue Cat Walking Jacket©
THESE CAT WALKING JACKETS ARE NOT AVAILABLE AT THIS TIME. WE'VE OFFERED THEM SINCE 1997, AND MAY DO SO AGAIN, SO YOU MIGHT CHECK BACK WITH US FROM TIME TO TIME. THANK YOU FOR YOUR SUPPORT!
We call this unique security cat harness a "Walking Jacket©", but it's so practical it could well be the "Travel Cat Jacket" or the "Visit the Vet Cat Jacket"!!
Every cat should have one of these cat harnesses in the front closet ready to go. On trips, it can even reduce or eliminate the need for a litter box! The unique L-shaped sport nylon fabric curls under the stomach for comfort and support. The three wide and non-binding adjustable straps buckle on the same side for easy fitting.
The STANDARD size Cat Walking Jacket© fits cats from 6 pounds to 17 pounds. Collar is adjustable from 8" to 12", and the girth straps are adjustable from 11" to 19". Available in RED, BLUE, PURPLE or BLACK ... PLUS WE NOW HAVE A LIMITED QUANTITY OF A BRAND NEW COLOR, FOREST GREEN ... each walking jacket has three adjustable 5/8" black webbing that cradle and support your kitty.
The LARGE size Cat Walking Jacket© is now available for LARGER SIZED (or full-figured) KITTIES (17 pounds and up)!! The LARGE size jackets adjust from 9" to 13" around the neck, and from 15" to 24" around the girth. Available in RED, BLUE, PURPLE, BLACK or FOREST GREEN, each with three adjustable 5/8" black webbing quick-fasten straps that cradle and support your kitty.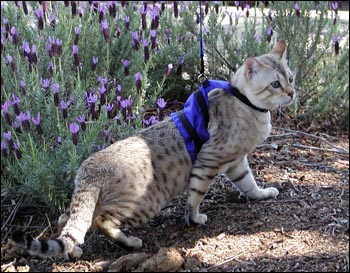 Handsome adult seal mink Bengal male, Prince Beau, modeling the
Royal Blue Cat Walking Jacket© (Beau is owned by Debbie Arsich, Bellbooknbengals.)
All our cat jackets come with detailed walking instructions. If you're looking for more LEASH TRAINING TIPS, CLICK HERE!!
Hand or machine washable, gentle cycle, and line dry. This Cat Walking Jacket© was designed for the special needs of cats, who require more reassurance than dogs. The cat jackets are soft and limber, but also very strong for their size. The extra-wide straps (5/8") are more gentle, comfortable and secure than the thin webbing found in most other cat harnesses. All three straps on each jacket fasten on the same side of your kitty (NOT underneath the tummy area!) which makes putting the walking jacket on your kitty a quick and stress-free process. Each strap is easily adjusted to fit your cat, and the snap together fasteners won't come undone until you take the jacket off your kitty.

* PLEASE NOTE: We do NOT supply pet leashes, as there are too many colors, lengths, styles, etc. of leashes readily available. We supply the jackets only, which are a unique and specialty item. The Cat Walking Jacket© is a patented product (US Patent Number 5,941,199).
| | |
| --- | --- |
| | These two awesome F3 Savannah kittens are home-bred here at Foothill Felines. The handsome brothers, Aslan and Loki, live the good life in Washington state with their humans Lori and Eric Sorge, where not only do they love to go out boating in their cat walking jackets, but they also are completely toilet trained! |
| | |
| --- | --- |
| | "Here are some photos of Susi, our Maine Coon kitten, taking her first walk at age 4 months. The small jacket fits Susi perfectly, and she's going to be a big girl, so we will order a large one later. Your walking jacket is the perfect answer for us -- I really wanted Susi to enjoy the outdoors, and now she can. We walk every day -- well, every day it's not windy or raining, and she absolutely loves it. Thank you for making this wonderful product available!" Sincerely, Betty Norman |
| | |
| --- | --- |
| | "My cat, Gracie, loves her jacket. She and her brother George usually wear harnesses connected to 15 foot leads in the backyard. Since our neighborhood is pretty well populated with dogs and busy streets, the harnesses and leads allow George & Gracie to spend time outside and still be safe. Gracie has never really liked her harness. She pulls on it and sometimes backs out of it in some very amazing circus-like moves. It worried me because it pulled on her neck. When she'd break free she'd run around the yard increasingly stressing herself out. Now with the walking jacket, from start to finish she is a happy cat! She doesn't mind my putting the jacket on because nothing presses over her ears. She loves that the lead doesn't sit close to her face. She has a better range of movement because it doesn't pinch around her legs, but I know she is safer because she can't wiggle out it. I actually watched her stretch out in the lawn and yawn at the sun! Such a happy cat! Thank you, thank you! I will be buying another one eventually for George!" Sincerely, Kristie Swatosh |
| | |
| --- | --- |
| | "We received the cat walking jacket today and it worked out great. Samson was not amused as you can see. 20 pounds of unhappiness but he forgot after we went outside to watch our local wild bunnies." Thanks, Michael, Laurie and Samson Sailsbury |
| | |
| --- | --- |
| | "I have had my walking jacket for a few weeks now. I own a eleven month old Bengal named Gracie. She wants to go outside so badly, I thought I would try a leash. I have had cats before and tried leashes and harnesses. Not one cat would even come close to being able to be walked. Gracie loves her walking jacket. She knows when I get it out and call her, she is going to get to go outside. Walking her is not like walking my dog, but she walks around, comes when called and I just gently tug on the leash and she comes. This is a work in progress, but I just wanted to say that the Bengal is a different type cat and the walking jacket is a great tool." Thanks, Bettye |
| | |
| --- | --- |
| | One of our best customers is Sir Richard, the Ragdoll ... he has quite a wardrobe! "Just look at me in my beautiful new jacket. You were so thoughtful to send me the El Gato cigar. It smells delicious! Thank you!" Purrs, Sir Richard |
| | |
| --- | --- |
| | "I just ordered another walking jacket for our Ragdoll, Sir Richard. Your jacket is a hit with Sir Richard. After I take my morning power walk, the little sir knows that it is his turn to go out for a walk, romp or whatever. He sits at a door and waits for me to get him dressed. Because of our success I've recommended your jacket to others. Attached are two pictures you might enjoy." Thanks, Winnie and Bob Bush, and the Sir |
| | |
| --- | --- |
| | We have fans all over the world; this beautiful marble Bengal is from Norway!! "The cat walking jacket arrived today. I tried it on already and it fits perfectly! She sure is a sweet girl and looks lovely in her new jacket." Sincerely, Espen Eilertsen |
| | |
| --- | --- |
| | "Lionel took to the jacket like a duck to water! It arrived today. I let him wear it around the house for an hour, then we went for a walk. He felt comfortable enough to roam around and I felt he was secure enough to let him. We had a wonderful time! The only problem was his swatting my ankles when I needed to bring him back in. I had to explain that I promised "every day" not all day every day. And the purple looks spectacular on him. I always did like orange and purple as a combo. Thanks so much!" Sincerely, Stella and Lionel |
| | |
| --- | --- |
| | "Max loves the cigar you sent, thank you so much. The jacket is just great. I have been working with him. He is doing real good. He still has a mind of his own. Here are some pictures. He is growing!" From Little Jo and Max |
HDW ENTERPRISES AND FOOTHILL FELINES BENGALS/SAVANNAHS
3115 TWIN OAKS ROAD, CAMERON PARK, CA 95682 U.S.A.
Website: http://www.hdw-inc.com; E-mail: holly@hdw-inc.com


~ Give your kitty the energy, great health and desire to enjoy life to the fullest! Used and recommended by Foothill Felines, click on image above to order this uniquely powerful nutritional supplement for felines at our Foothill Felines breeder discount. Just a pinch a day, sprinkled onto wet and/or dry food, energizes and supports all ages, weights and breeds of cats. Developed by scientists, veterinarians and formulators to enhance the health and lives of cats, this unique Nu- Vet supplement contains many important minerals, antioxidants, enzymes and vitamins especially needed by active felines' metabolisms INCLUDING taurine, calcium, blue green algae, brewer's yeast, and much more.
~ MORE WAYS TO STAY ACTIVE WITH YOUR KITTY ~
HOME | HOME (FRAMES VERSION) | BENGAL CATS | BENGAL & CAT CHAT | AVAILABLE BENGAL KITTENS & CATS | BENGAL KITTEN PHOTO ALBUMS | FUTURE LITTERS | SAVANNAH CATS
FELINE BEHAVIOR | BREEDING & CARE | CAT SHOWS | FELINE HEALTH | PET ODORS & ALLERGIES
UNIQUE CAT ACCESSORIES | THE BENGAL SPOT® | CAT EXERCISE WHEELS | CAT BEDS, STAIRS & SOFAS | CLEVERCAT LITTERBOXES | CAT BOOKS | CAT FURNITURE | CAT TOYS & CATNIP | CHRISTMAS IS FOR CATS!® | SCAT MATS | CAT WALKING JACKETS | KITCHEN SINK STORE | THE CATTY COOKBOOK
BIG CATS | CAT NAMES | FELINE FUN FACTS | HOW TO ORDER | THE "KITTY TIMES" WEBSITE REVIEW | MARSHA'S WEB PAGE DESIGN® | MONTHLY SPECIALS | THOUGHT FOR THE WEEK
ABOUT US | CELEBRITY CORNER | E-MAIL US | HOT LINKS | REGISTER FOR FREE GIFT |
© 1996-2015 Copyright by HDW Enterprises - All Rights Reserved.

HDW Enterprises, Inc., Cameron Park, CA 95682
http://www.hdw-inc.com e-mail: holly@hdw-inc.com