Proudly Presented By
HDW ENTERPRISES & Foothill Felines Bengals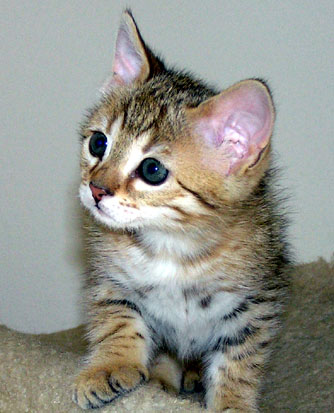 A lovely young Foothill Felines female Savannah kitten.
| | |
| --- | --- |
| | To find more details about these Foothill Felines recommended products and to purchase them securely on-line, start by clicking on the "BROWSE BY CATEGORY" links listed below right. |
~ We are THRILLED to present our new online store with the widest variety imaginable of cat beds and furniture, including kitty sofas, heated pet beds, window perches ... any type of cat bed or comfort you can imagine can be found right here. Clicking on each Category listed will provide product images for you to view. When you find a product you're interested in, click on the photo to bring up the specifications, and if you so choose, to start the secure on-line ordering process. Happy Shopping! ~
FOOTHILL FELINES BENGALS & SAVANNAHS
Cameron Park, CA 95682 U.S.A.
E-mail: holly@hdw-inc.com
HOME | HOME (FRAMES VERSION) | BENGAL CATS | BENGAL & CAT CHAT | FREE BENGAL CAT SCREENSAVER | AVAILABLE BENGAL KITTENS & CATS | BENGAL KITTEN PHOTO ALBUMS | FUTURE LITTERS | SAVANNAH CATS
FELINE BEHAVIOR | BREEDING & CARE | CAT SHOWS | FELINE HEALTH | PET ODORS & ALLERGIES
UNIQUE CAT ACCESSORIES | THE BENGAL SPOT® | CAT EXERCISE WHEEL | LITTERBOXES | CAT BEDS | CAT BOOKS | CAT FURNITURE | CAT TOYS & CATNIP | CHRISTMAS IS FOR CATS!® | SCAT MATS | CAT WALKING JACKETS | KITCHEN SINK STORE
BIG CATS | CAT NAMES | FELINE FUN FACTS | HOW TO ORDER | THE "KITTY TIMES" WEBSITE REVIEW | MARSHA'S WEB PAGE DESIGN® | MONTHLY SPECIALS | THOUGHT FOR THE WEEK
ABOUT US | CELEBRITY CORNER | E-MAIL US | HOT LINKS | WEBMISTRESS
© 2005-2015 Copyright by HDW Enterprises - All Rights Reserved.


HDW Enterprises, Inc., Cameron Park, CA 95682 ~
http://www.hdw-inc.com e-mail: holly@hdw-inc.com