Proudly Presented By
HDW ENTERPRISES & Foothill Felines Bengals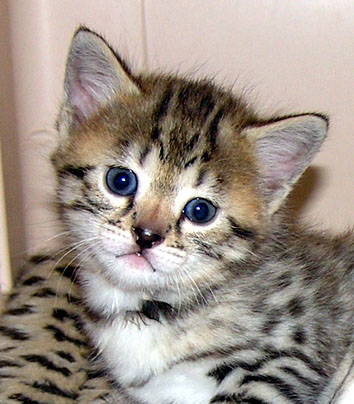 Adorable Savannah Kitten, Foothill Felines Smarty Spots
Feel free to browse through this entire page; or, click on any of the following topics: Selecting the Right Breed; Kittens vs. Adult Retired Breeders; Finding a Reputable Breeder; How Important is Price?

SELECTING THE RIGHT BREED

While many people are familiar with the process of purchasing a purebred, pedigreed dog, the idea of purchasing pedigreed cats is still relatively new. Once you've decided that you want to add a pedigreed kitten or cat to your family, there are some important considerations which will help ensure that you have a positive experience.
First of all, do some research!! You'll need to decide upon a breed that especially interests you. While you may first be attracted to a particular breed of cat because of their appearance, you also need to investigate very carefully what sort of temperament they are prone to having. And, you'll need to be realistic about your own current family situation, and whether or not this breed of feline will work well for you at this point in your life.
Are any of your family members allergic to cats? This doesn't in itself preclude the possibility of you purchasing a new kitten or cat; however, it does involve working with an allergy specialist and making changes within your home to reduce the amount of overall allergens indoors. Short haired, fixed kittens/cats are best, and certain breeds may be less likely to cause severe allergic symptoms in some people than others. Remember, it isn't fair to the animal to adopt him or her into your home and heart, only to have to find a new home for them a few months later. Adopting an animal should be viewed in every sense as adding a new member to your family.
Keep in mind that longhaired cats, while beautiful, require a great deal of grooming. Without that daily care, their fur can become matted and tangled, and cause them (and you) great distress. If you don't have the time or energy for this kind of care and additional home maintenance and vacuuming required, (or don't want to take your kitty in to a professional groomer, which is another option), we recommend you look specifically within the numerous short-haired cat breeds.
Do you have young children? Or, plan to have a new baby in the next few years?? Do you and your spouse both work outside the home, and/or take frequent trips out of town?? It is always preferable to have someone come in to your home to care for your feline in your absence, so finding a good pet-sitter is going to be very important in those circumstances. If you are not home much during the day, you may want to consider the idea of having 2 kittens or cats, so that they can keep each other company in your absence. Most felines are very social creatures, and young kittens especially can become quite bored and lonely when they don't have other felines or humans to interact with.
You can find out a great deal about the different cat breeds by looking at books, the Internet (message boards and special interest breed groups are especially good sources of honest information), cat magazines, and going to cat shows. Cat shows are a wonderful way to actually see and compare a wide variety of different breeds, as well as a good place to find out about local breeders. Most major cat associations such as TICA, ACFA, UFO, CFA, etc. have websites with their show calendars, plus cat magazines often have a current, 2 month show calendar for several associations in each issue. Local breeders in your area can also often tell you about upcoming shows.

CLICK ON KITTY to Return to Top of Page!

KITTENS vs. ADULT RETIRED BREEDERS

Many people new to the world of pedigreed cats do not realize that from time to time, most breeders have "Retired Adult Breeders" available at reduced prices. Purchasing a Retired Breeder can offer many advantages over a young kitten: Retired Breeders are almost always of extremely high quality - often top breeder to show quality; they are already spayed or neutered; they are past the "kitten" stage which often requires making major adjustments in your home for the safety of your new kitten (as well as your possessions!); and often, Retired Breeders are still quite young themselves. Why do breeders "retire" their best animals from breeding?? There can be a variety of reasons, but most of the time, it is due to fertility issues, difficult pregnancies or births in females, and the need for new bloodlines in an established breeding program. None of these factors have anything to do with the fact that these animals make outstanding pets, and most of them adjust to a loving new home and family just as easily as a young kitten, if not more so!!

CLICK ON KITTY to Return to Top of Page!

~ For over 12 years, we have been selling these extremely popular cat walking jackets, which are so much safer and more secure than any other type of harness for your kitty. Cats of all ages and types can be successfully leash trained using these walking jackets. Find out more by clicking on the image and links above!

FINDING A REPUTABLE BREEDER

Once you have made your decision regarding which breed of cat or kitten, you need to find a breeder. Are breeders all the same?? Absolutely not!! Besides going to cat shows, you can also find lists of breeders in the cat magazines' breeder sections, and many breeders now have their own websites, too. You can also look in your phone book for breeder listing services, another place to start. Ultimately, your best bet may be to look for a breeder through the major cat registration associations or breed clubs. There is often more protection for you, the consumer, when a breeder belongs to an association of their peers. Many organizations (such as The International Bengal Cat Society, for Bengal breeders) require breeder members to sign a code of ethics before they can join, which ensures they will provide quality care to their animals and provide excellent service to their customers, and that they are held accountable for their actions if they do not honor those commitments.
Your first contact with a breeder may be via phone, fax, letter or e-mail. It is important to listen or look carefully at every communication you receive from the breeder. It can indicate more about them than you might think. If written, is their communication professionally done?? Are the spelling and grammar correct?? Does the written communication evoke a feeling that they care about their animals, and would want to work with you?? In all communications, does the breeder invite you to visit their facility?? While it is often ideal to purchase a pedigreed animal from a local breeder where you can actually go see their facilities and meet them and their animals face-to-face, you can also learn much about a breeder by talking to other people who have purchased animals from them. Don't be afraid to ask the breeder for references, and definitely follow up and contact these references.
Do keep in mind that most reputable, established breeders have waiting lists for their kittens. Be very careful about catteries which always seem to have lots of kittens available for sale -- chances are, this cattery is having difficulty placing their kittens and this should be a red flag to prospective buyers. It's a good idea to ask outright about a cattery's waiting list, and about their deposit policies. Most pedigreed cat breeders will offer a refundable deposit option (often $100.00 to $200.00), which will then hold a kitten or cat for you until it is ready to leave for its new home. You should be clear about under which circumstances the policy is refundable, or is not refundable. Most breeders will refund the deposit for any reason up until the time that a specific kitten or cat and the terms are mutually agreed upon. But, you should always have this information in writing.

CLICK ON KITTY to Return to Top of Page!

HOW IMPORTANT IS PRICE?

Price is going to be an important consideration for most buyers; however, in the long run when purchasing a pedigreed cat, it should not be at the top or even near the top of your list of priorities. What's the point of spending a few hundred dollars less initially on an animal that does not come with a written health guarantee or health records, pedigree and registration papers?? Unfortunately, what can happen is that the animal is NOT healthy, and the new owner then may end up spending hundreds or even thousands of dollars on unanticipated veterinary bills, and then may still lose the animal (and possibly now have other sick felines too). Without a written health guarantee, there is little recourse for the now heartbroken (and financially broken) consumer. All too often, we also hear about people who end up never being able to get the papers promised to them by the breeder. When this happens, the actual reason is usually that there never were any papers, and, without those papers, there is no way to prove that you have, in fact, actually purchased a purebred, pedigreed kitten or cat, from registered parents. When a pedigreed kitten or cat is advertised at a very low price, you can be sure that corners have been cut - perhaps the animals did not receive the high quality scientifically formulated foods and supplements; perhaps the breeder did not get all the necessary vet visits done and/or maintain the proper registration, pedigree and health records; their facilities may not be large, clean and well-maintained; the cats may not get the proper amount of handling and socializing within the home. All these things will contribute greatly towards how well adjusted, healthy and affectionate your new kitten or cat will be, and thus to your overall satisfaction with your purchase and your new companion.
Did you realize that the average life expectancy of an indoor only cat in the United States right now that receives proper care is about 17 years? A kitten with a purchase price of $1,000 would end up costing $4.90 per month if her purchase price is amortized over seventeen years!! What a bargain!! And this is a great reminder to take your time and really select the kitten that you absolutely love, from a breeder whom you respect, like and trust.

CLICK ON KITTY to Return to Top of Page!

~ Give your kitty the energy, great health and desire to enjoy life to the fullest! Used and recommended by Foothill Felines, click on image above for more information and to order this uniquely powerful nutritional supplement for felines at our Foothill Felines breeder discount (which is up to 50% less than what veterinarians charge). Just a pinch a day, sprinkled onto wet and/or dry food, energizes, boosts the immune system and supports the overall health of all ages, weights and breeds of cats. Developed by scientists, veterinarians and formulators to enhance the health and lives of cats, this unique Nu- Vet supplement contains many important minerals, antioxidants, enzymes and vitamins especially needed by active felines' metabolisms INCLUDING taurine, calcium, blue green algae, brewer's yeast, and much more.





FELIWAY PLUG-INS & SPRAY


~ Click on links above for more information and to order these exceptionally calming Feliway products for felines. Used and recommended by Foothill Felines! Wonderful for cats of all ages, weights, and breeds. Contains natural cat pheromones for extremely effective stress relief and eliminating need for cats and kittens to mark or exhibit other unwanted behaviors. Every multi-cat household should know about these plug-ins; they are odorless to people, yet they are especially helpful to kittens/cats during a move, any change in your household routine, periods of stress of any kind, and queening.
FOOTHILL FELINES BENGALS & SAVANNAHS
Cameron Park, CA 95682 U.S.A.
(530) 672-CATZ Phone; E-mail: holly@hdw-inc.com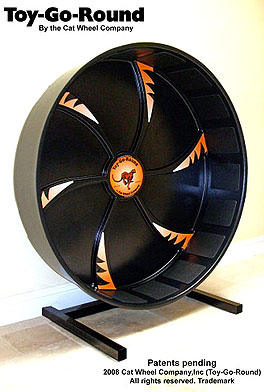 TOY-GO-ROUND CAT EXERCISE WHEELS
~ Click on image above to learn about the incredible new exercise wheels for cats; the Toy-Go-Round wheels!! It's often difficult to provide indoor cats with the exercise their bodies crave; with their compact size, these cat exercise wheels fit into even the smallest of areas and help maintain weight, build muscle tone, and relieve stress and boredom for felines of all ages, types and sizes!! They're quite simply the best designed, best built and best priced wheels we've found anywhere!!
HOME | HOME (FRAMES VERSION) | BENGAL CATS | BENGAL & CAT CHAT | FREE BENGAL CAT SCREENSAVER | AVAILABLE BENGAL KITTENS & CATS | BENGAL KITTEN PHOTO ALBUMS | FUTURE LITTERS | SAVANNAH CATS
FELINE BEHAVIOR | BREEDING & CARE | CAT SHOWS | FELINE HEALTH | PET ODORS & ALLERGIES
UNIQUE CAT ACCESSORIES | THE BENGAL SPOT® | CAT EXERCISE WHEEL | CAT BOOKS | CAT FURNITURE | CAT TOYS & CATNIP | CHRISTMAS IS FOR CATS!® | SCAT MATS | VIDEO CATNIP | CAT WALKING JACKETS
BIG CATS | CAT NAMES | FELINE FUN FACTS | HOW TO ORDER | THE "KITTY TIMES" WEBSITE REVIEW | MARSHA'S WEB PAGE DESIGN® | MONTHLY SPECIALS | THOUGHT FOR THE WEEK
ABOUT US | CELEBRITY CORNER | E-MAIL US | GIVE US FEEDBACK | HOT LINKS | REGISTER FOR FREE GIFT | WEBMISTRESS
© 1996-2009 Copyright by HDW Enterprises, Inc. - All Rights Reserved.
HDW Enterprises, Inc., Cameron Park, CA 95682 (530) 672-CATZ phone
http://www.hdw-inc.com E-mail: holly@hdw-inc.com