Presented By HDW Enterprises & Foothill Felines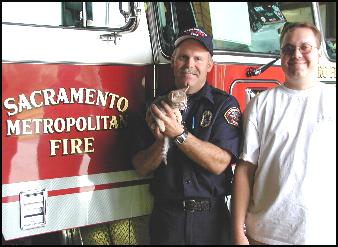 Foothill Felines Kitten Held by Sacramento County Fireman
(Who Rescued This Curious Bengal Kitten From Dangerous Recliner!!)
Feel free to browse through this entire page; or, click on any of the following topics: "Kitten and Cat Proofing Your Home"; "Purchase Needed Kitty Supplies Ahead of Time"; "Use Your Carrier When Bringing Kitty Home"; "Keeping Your Home Environment Calm"; "Holiday Safety Tips"; "Symptoms of a Feline Swallowing a Foreign Object and What to Do"; "Your New Life Together

HOW TO KITTEN AND CAT PROOF YOUR HOME

It's finally time to bring your new kitten or cat home with you!! While the event itself is very exciting; it is also a huge change and trauma for the feline, no matter how loving the new home and family. Being prepared ahead of time will greatly ensure that the actual transition for your new furry family member is as quiet, calm and comfortable as possible. Kittens and cats are by their nature VERY curious about their surroundings, so you will need to make sure there are no hidden "escape routes" that lead outdoors for your indoor-only kitty. If you have young children, or any concerns about the cat getting out, you can even make and post small signs at each doorway reminding the family to close them carefully and watch for kitties!!
Keeping your toilet bowl closed after use is a must for small kittens, and especially a breed of cat like the Bengal, who seems naturally attracted to water. Move glass or breakable treasures inside a locked cabinet, or use special anchoring clay to keep them secured from being knocked over by an inquisitive paw. Always keep your washing machine and dryer doors closed, and check carefully before and after each use to make sure your kitty hasn't somehow gotten inside. For some reason, all kittens seem to love exploring underneath the refrigerator - make sure that they cannot get all the way under or behind the refrigerator by filling up those spaces or putting boards or other material there to keep the kitties out.
Move all toxic materials so that they are out of reach (or better yet, safely locked in a secured cabinet) for your cat. Remove all poisonous items from your home. This includes household cleansers, car products such as anti-freeze, small sharp objects, poisonous plants, etc. Cover outlets and hide or heavily cover with tapes or plastic conduit electrical cords as cats and young teething kittens like to gnaw on such items. Watch for lightweight table lamps that can fall over; heavy irons that can fall off ironing boards; reclining chairs where kittens and cats can get up way inside and suffocate, or get trapped and badly injured or killed when someone unknowingly sits down at the wrong time.
It's best to keep real houseplants in a separate, closed area, away from any contact with your cats. Silk plants make an attractive, safe substitute. This way, the cat does not come in contact with any poisonous plants, nor have the opportunity to ingest or come in contact with any potential parasites in the soil. Be sure to remove all strands of spaghnum moss, to avoid having your kitty ingest them. A professional veterinarian should be contacted immediately if your cat suddenly collapses, has repeated vomiting or severe diarrhea, or shows signs of excessive irritation (red, swollen, blistering or raw) of skin of the mouth or throat. Any cat or kitten who becomes lethargic and loses interest in their food for a day or more may also have ingested something potentially dangerous, and professional help should be sought. If you actually see your cat eat something that you suspect to be poisonous, do not attempt to make the cat vomit yourself. Take the cat to the vet with a sample of the plant (a plant label or means of identification would also be most helpful). This will help the vet to find a treatment or antidote to the poison. Keeping notes of the time of eating and any symptoms may also be very helpful to your vet, as sometimes several days can pass between the ingestion of the harmful material and the actual effects showing up in your cat. Contact with the leaves, stems or sap of certain plants can cause rashes and hypersensitivity to sunlight resulting in sunburn. In cats these plants may cause blistering or itching of the mouth and gums, which can sometimes be misdiagnosed as gingivitis. Sneezing and eye problems can also be caused through contact with these plants.
Be very aware that not all cat toys are safe - be especially careful about leaving any string, yarn, thread, needles, safety pins, rubber bands, small pieces of a toy like eyes or bells that can easily come off and be ingested. Unfortunately, having a feline swallow a foreign object is a fairly common and often fatal event which almost always could have been prevented. Make sure that any toys you make or purchase have no small or sharp pieces that can poke or be chewed off and be swallowed. Cats seem to love household items such as twist ties for plastic bags, but these can be deadly. Twist ties can be swallowed and perforate intestines. You can make aluminum foil balls that your cat will love because they are easy to bat around and make a nice noise on hard floors, but be sure to wad the foil up very tightly so your kitty can't chew off and swallow bits of foil, and also be sure the ball is large enough that we can't swallow it.
Other types of potential hazards for kittens and cats include anything with loops on them, such as grocery paper or plastic bags with the carry handles still on them; litter box liners of the drawstring type if they are pulled closed and the loop is left where kittens can get stuck in them, and even the vertical pulls for window blinds. All of these can be deadly if the kitty gets his or her head caught in the loop. Keep ALL plastic bags safely away from kitties.

CLICK ON KITTY to Return to Top of Page!

~ Give your kitty the energy, great health and desire to enjoy life to the fullest! Used and recommended by Foothill Felines, click on image above for more information and to order this uniquely powerful nutritional supplement for felines at our Foothill Felines breeder discount (which is up to 50% less than what veterinarians charge). Just a pinch a day, sprinkled onto wet and/or dry food, energizes, boosts the immune system and supports the overall health of all ages, weights and breeds of cats. This supplement can even be used in tiny amounts added to an orphaned kitten's formula, added to "glop" recipes for early weaning of kittens and/or extra support for a tired pregnant or lactating mother cat. Developed by scientists, veterinarians and formulators to enhance the health and lives of cats, this unique Nu- Vet supplement contains many important minerals, antioxidants, enzymes and vitamins especially needed by active felines' metabolisms INCLUDING taurine, calcium, blue green algae, brewer's yeast, and much more.

PURCHASE NEEDED SUPPLIES AHEAD OF TIME

You will definitely want to have on hand: food and water dishes (we recommend stainless steel, and recommend getting your new kitty her own set, even if you already have a set for another feline), food (make sure you are continuing with the type of food your kitty is used to, to avoid abrupt changes in her diet which could cause loose stools), litter box (be realistic as to the size and style of litter box, and what will work best for your kitty, and be sure to place the litter box in an easily accessible location, away from the food and water area) , litter (again, it will be much easier on your kitty if you continue to use the litter she is used to, at least at first, and any changes that you may want to make should be done very gradually), pooper scooper, cat furniture such as several scratching posts, a window level perch, and at least one tall cat tree or tower (and be sure to place these in the areas where they will get the most use), cat bed, toys, collar, identification tag (micro-chipping is another option here), walking jacket harness and leash, travel kennel crate, nail clippers, Gerber's baby food (lamb or chicken, for special treats and when kitty is ill), bottled water or a filtering system for your tap water, and a brush.

CLICK ON KITTY to Return to Top of Page!

USE YOUR CARRIER WHEN BRINGING KITTY HOME

It is so important that you keep your kitten or cat safe when inside a car. You can pad the carrier with soft blankets (another good idea is to get some of the smells from your kitty's previous home on the blanket to provide some additional comfort), and put some soft toys inside, but your kitty will actually feel safer inside the carrier than allowed to roam freely in the moving car.

CLICK ON KITTY to Return to Top of Page!
5 Week Old Foothill Felines Kitten Playing Under Dangerous Recliner!!

KEEP YOUR HOME ENVIRONMENT CALM

Your kitty will need time to get used to his/her new surroundings. We recommend that you initially bring her carrier into one room (preferably your bedroom), and keep her confined to that one room for the first few days, with the carrier door open. Always speak in soft, soothing, loving tones, and don't force her to come out of her carrier until she is ready. You can show her where her food and water are, and her litter box. Give your cat some time to get used to things at his/her own pace. The first few days are probably not going to be the time to introduce young children or other pets. You can introduce them slowly and only after your new kitty is comfortable with the surroundings themselves. As your cat gets more comfortable with the first room you can gradually start allowing him/her into the rest of the house (making sure she can always retreat to her initial room if she becomes frightened), until he/she is completely comfortable. Don't worry if your new kitty doesn't eat the first day, the little one will come around shortly. Sometimes a dab of Gerber's baby food such as lamb or chicken on your finger may entice the kitten or cat to come to you and eat a little treat. Your new kitty may cry or meow and seem frightened the first few nights. That is perfectly natural, as she is in an entirely new place with new people, new smells, etc. Give her plenty of cuddling, and let her sleep with you if she wants to. This is also a very important time for the two of you to begin bonding together, and the start of the trust that she will be developing in you. Using the Comfort Zone Feliway Plug-Ins (see bottom of page) in each room will greatly comfort your kitty. These plug-ins work by gently releasing the same feline pheromones that your kitty smells when she rubs her face against objects and people.

CLICK ON KITTY to Return to Top of Page!

~ For over 12 years, we have been selling these extremely popular cat walking jackets, which are so much safer and more secure than any other type of harness for your kitty. Cats of all ages and types can be successfully leash trained using these walking jackets. Find out more by clicking on the image and links above!

HOLIDAY SAFETY TIPS

The holidays are fun to celebrate, but beware of the additional dangers they hold for felines. Holiday plants such as mistletoe, holly berries and even poinsettias can be harmful or fatal if ingested by your kitty. Burning candles are a no-no, not only for the immediate danger to your pets, but because they can be easily knocked over spilling hot wax, and become obvious fire hazards. When you are entertaining, please be considerate of your feline's feelings, and be sure your kitty has a safe place to retreat to, with familiar surroundings and a quiet, calm environment. And remember too, that your guests may inadvertently let your indoor kitty outdoors in the excitement of the festivities. Be sure to firmly tack down all exposed wiring, and protect the wires from curious, sharp little teeth by covering the cords with plastic pvc material, thick wrapping tape, and/or spraying with a scent deterrent such as "Bitter Apple". If you decide to give your kitty a little treat of chicken or turkey, please tear the meat carefully into small pieces, and make sure there are no bones, or pieces of bones, in the treat, as these can cause serious intestinal blockage and damage, which can even be fatal. A little treat is much easier on a kitty's delicate system than a huge amount of a food he or she is not used to. Believe it or not, even potpourri liquids can be dangerous to your feline, as they contain natural or essential oils, which if ingested can cause vomiting, stomach upset, diarrhea, weakness, and possibly liver damage. Some products also contain cationic detergents, in which case the signs tend to be even worse. Cats are most often exposed to potpourri oils by rubbing against leaky bottles or pots containing the oil, or from spilling the oil containing pots over themselves.
If you have a Christmas tree, it should stand in a flat, wide base. Try to anchor the tree with ceiling and/or wall hooks to help keep the tree from tipping over. Be aware that many felines see trees as fabulous climbing posts, so be certain that your tree decorations are kitty-safe. In some cases, you would be better off putting your tree in a room with doors that close, or trying a decorative large wreath placed out of your kitty's way instead. Remember that metal ornament hooks can get caught in feline mouths, and that cranberry and popcorn strands can be deadly to pets, causing intestinal obstruction or getting wrapped around your pet's neck. Tinsel can cause intestinal obstruction and blockage if swallowed, and glass balls can break in an animal's mouth. Broken pieces can cut the skin and be deadly if ingested. Angel hair is spun glass, and will shred the intestines if swallowed, and decorative artificial snow or tree flocking can be ingested or inhaled and damage kitty's nasal passages. Batteries contain a highly corrosive acid that can burn a pet's mouth if it leaks or the container is broken by chewing, so be sure to keep all batteries stored safely away from your feline. And, please do not tie ribbons around your kitty's neck!! Ribbons are extremely dangerous in that they can twist and tighten, causing choking or even strangulation. And pets can hang themselves if the ribbon gets caught on an object. Plus, cats love to play with ribbons, and these can work their way into the intestinal tract and due terrible damage if they are ingested.

CLICK ON KITTY to Return to Top of Page!

SYMPTOMS OF A FELINE SWALLOWING
A FOREIGN OBJECT; WHAT TO DO

If you see a piece of yarn, audio tape, string, tinsel, etc. protruding from your cat or kitten's mouth or anus, do NOT attempt to pull it out! It could be wrapped around your cat's intestines and by pulling, you might inadvertently kill kitty!! Instead, take your kitty in to your vet IMMEDIATELY!! Other symptoms that might occur even if nothing foreign is showing: your kitty is having difficulty breathing, vomiting or trying to vomit, coughing, bleeding from the mouth or anus, convulsing, frothing at the mouth or intensive salivating, or has a swollen tongue. Any of these symptoms require IMMEDIATE veterinary care and intervention. If your regular vet is closed or unavailable, take your kitty to the closest emergency veterinary hospital.

CLICK ON KITTY to Return to Top of Page!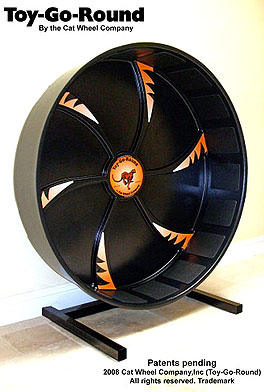 TOY-GO-ROUND CAT EXERCISE WHEELS
~ Click on image above to learn about the incredible new exercise wheels for cats; the Toy-Go-Round wheels!! It's often difficult to provide indoor cats with the exercise their bodies crave; with their compact size, these cat exercise wheels fit into even the smallest of areas and help maintain weight, build muscle tone, and relieve stress and boredom for felines of all ages, types and sizes!! They're quite simply the best designed, best built and best priced wheels we've found anywhere!!

YOUR NEW LIFE TOGETHER

Once your cat is comfortable with the house, including where her food and water dishes, litter boxes (at least one per floor in a multi-level home) and scratching posts are, you can help her get started learning your household and family routines, which will now include her. Cats seem to thrive on consistency, and keeping her feeding and play times to a specific part of the day will be very calming for her, and probably for you too!! She will be more open to learning to recognize her name, your voice, the different personalities of your human family members, the household rules about jumping, scratching, etc. Just like humans, each cat is a unique individual, and it is important not to have unrealistic expectations of your kitty's personality. As she becomes more comfortable with you, she will open herself up and show you her individuality. Let her know that she is a full member of your family now, and she will reward you, in her own time and way, with her trust, her affection, and her love.

CLICK ON KITTY to Return to Top of Page!


FOOTHILL FELINES BENGALS & SAVANNAHS
Cameron Park, CA U.S.A.
Phone: (530) 672-CATZ; E-mail:
holly@hdw-inc.com
HOME | HOME (FRAMES VERSION) | BENGAL CATS | BENGAL & CAT CHAT | FREE BENGAL CAT SCREENSAVER | AVAILABLE BENGAL KITTENS & CATS | BENGAL KITTEN PHOTO ALBUMS | FUTURE LITTERS | SAVANNAH CATS
FELINE BEHAVIOR | BREEDING & CARE | CAT SHOWS | FELINE HEALTH | PET ODORS & ALLERGIES
UNIQUE CAT ACCESSORIES | THE BENGAL SPOT® | CAT EXERCISE WHEEL | CAT BOOKS | CAT FURNITURE | CAT TOYS & CATNIP | CHRISTMAS IS FOR CATS!® | SCAT MATS | VIDEO CATNIP | CAT WALKING JACKETS
BIG CATS | CAT NAMES | FELINE FUN FACTS | HOW TO ORDER | THE "KITTY TIMES" WEBSITE REVIEW | MARSHA'S WEB PAGE DESIGN® | MONTHLY SPECIALS | THOUGHT FOR THE WEEK
ABOUT US | CELEBRITY CORNER | E-MAIL US | GIVE US FEEDBACK | HOT LINKS | REGISTER FOR FREE GIFT | WEBMISTRESS
© 1996-2009 Copyright by HDW Enterprises, Inc. - All Rights Reserved.
HDW Enterprises, Inc., Cameron Park, CA 95682 (530) 672-CATZ phone
http://www.hdw-inc.com e-mail: holly@hdw-inc.com